AFROTC Alumnus; WSO; proud dad of USNA mid
Joined

Jul 10, 2020
Messages

38
Few SA mids and cadets may know that they rate relatively high "Category 3" status when flying "Space-A" on leave.
DS and I are back from a holiday adventure to Japan using DoD's scheduled "Patriot Express" flights in/out of SeaTac that fly to Japan and Korea. Other scheduled "Patriot Express" flights service Germany and the UK out of BWI. Over the winter months, many Patriot Express flights -- using chartered 767s -- are flying with empty seats.
We flew from Seattle to Okinawa. On the return, DS flew out of Yokota AB, Japan (on a rather full flight) while I went back to Okinawa to return to Seattle on a fairly empty flight.
Once mids and cadets complete the initial personnel security and health briefings, subsequent outside-US leave approval paperwork should be modest.
Helpful sites to learn the risks and rewards of Space-A travel include:
Advanced/contracted ROTC mids and cadets, too, can fly Space-A as "Category 6" but are restricted to flying to U.S. states (including Hawaii and Alaska) and territories.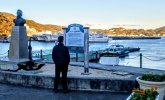 A Christmas Day visit to the Commodore Matthew C Perry monument in Shimoda, Japan.
In 1854, Perry played a key role in opening up Japan to trade with the West.