Formerly Known As Attila The Hunnette
15-Year Member
Joined

Sep 27, 2008
Messages

19,823
See the screenshot below. Now look at the paragraph near the bottom. I saw this in some random feed on various things I follow online to stay current on military-veteran topics.
As noted in the thread title, I have no agenda, and I have great respect for the SMCs, just wishing I had a magic wand to tweak the language.
Graduates Do Not Have To Serve In The Military
I like precision in language and can often take things too literally. This seems like a negative to me. As a headline, I think it casts a shadow. Why not:
Graduates May Choose Civilian or Military Careers
And, the text in the paragraph notes
"More than half the cadets who come to VMI end up serving in the military."
I admit I don't like the use of "end up." To me, I get a tinge of nothing better turned up, and I did not thoughtfully choose to follow a path of service, it just kind of happened.
Why not: "Over half our graduates choose to serve their country as military leaders."
Your thoughts?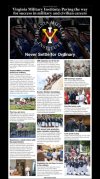 Last edited: