Joined

Oct 29, 2017
Messages

22
Hello,
I am a candidate for the US Naval Academy with a conditional offer of appointment(LOA). Quite a while ago, I sent in my initial medical exam, and was then requested to send several remedials, which I promptly submitted. Several weeks later, I was medically disqualified for asthma after 13. I heard nothing of the other remedials, so I had assumed that they had not disqualified me for them.
Yesterday, I logged into my DoDMERB portal to find a new entry into the log,
"Date letter sent - Reviewed Medical at Program(s) Request R259.01,R241.00,R242.03,R242.06,R242.07"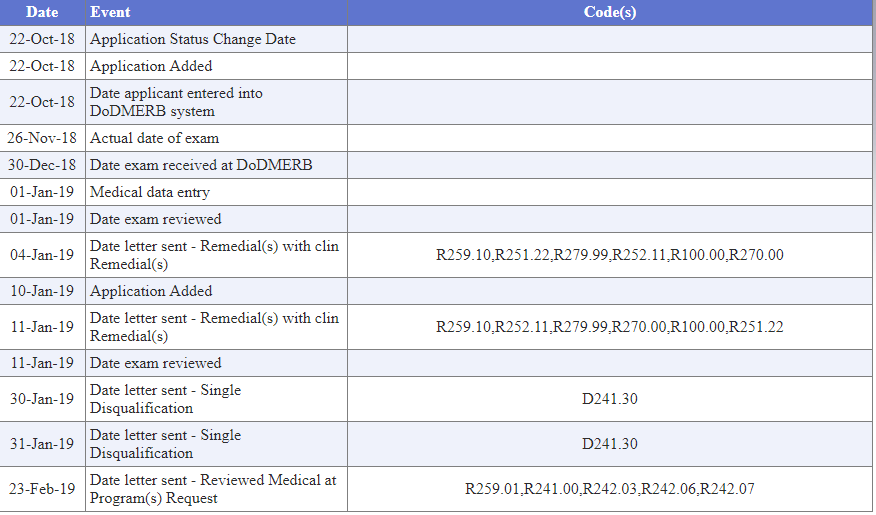 There are no further entries, instructions, or otherwise any indications on my status. Previously, below the log, were links to the two pdf DQ/Remedial letters for USNA and NROTC, as well as an indication of my status, which was "pending waiver submission/review". Now, there is nothing, just the bottom of the webpage.
Being that there are no longer any further instructions or links, I am severely confused on what to do. I can not find online or on DODMERB a list of code meanings for the new remedials. So far, I have only emailed my DoDMERB technicians asking these questions.
Could anyone provide advice on what this could mean, or how I should approach the situation?
Thanks!